IMMUNE 2 INFODEMIC Project Framework Workshop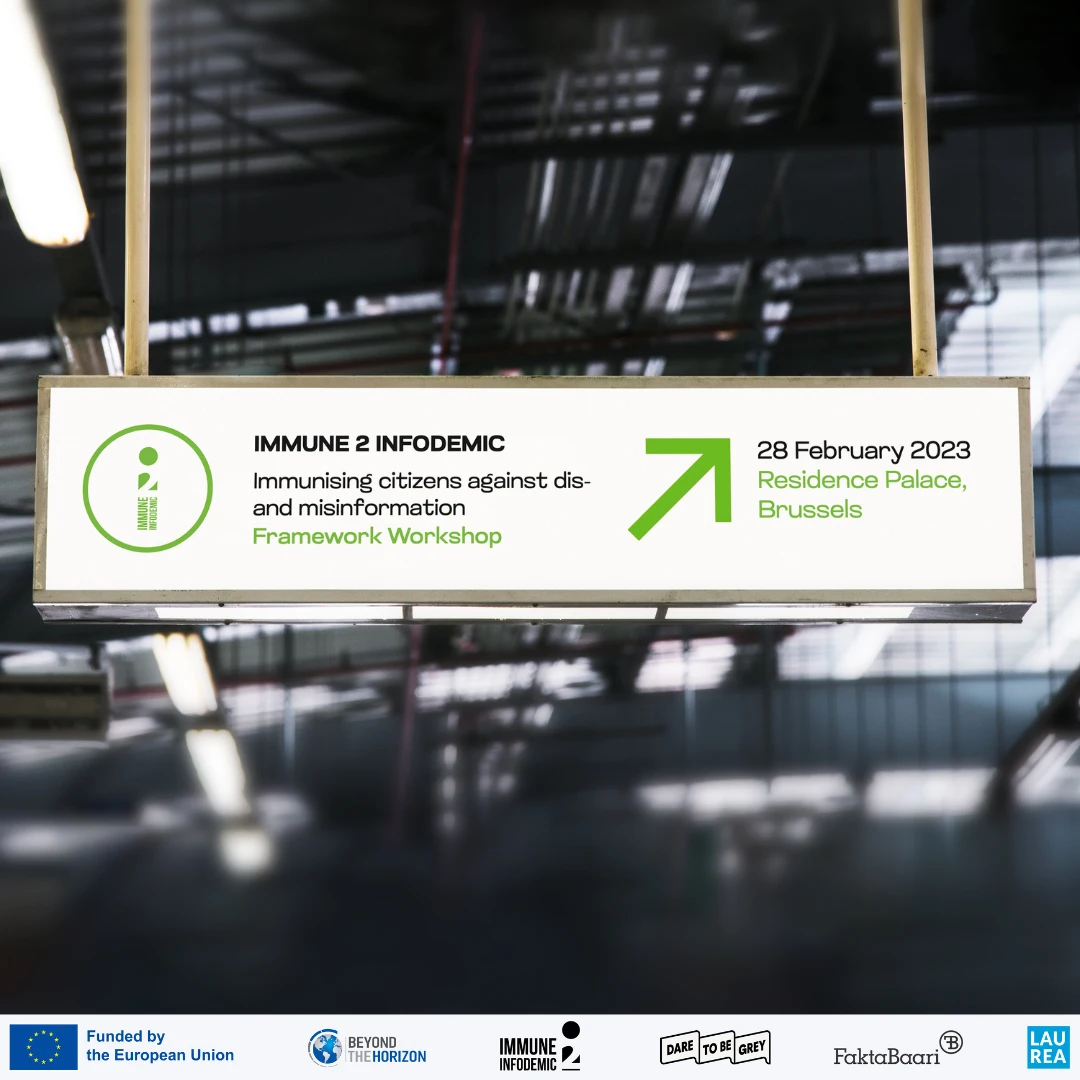 Background
European citizens are all exposed to an infodemic spreading increasingly which can severely impact their democratic participation and engagement. This may include disinformation, misinformation, fake news, and other types of interference on different issues related to public life. A pre-emptive approach needs to be taken to decrease the worsening impact, such as using vaccination against the spread of the pandemic. 
IMMUNE 2 INFODEMIC aims to immunise EU citizens against disinformation and misinformation on selected themes by empowering and equipping them with several easy-to-use tools. The project consortium formulates and co-produces 3 instruments (vaccines): digital literacy, media literacy, and critical thinking; and applies these instruments to 3 selected hot themes (boosters): elections, COVID-19 and migration.
Vulnerable citizens/residents having limited/no knowledge about mis/disinformation activities but using social media extensively will be targeted for the injection in different forms of in-situ and online events with the support of multipliers including media professionals, social media influencers and civil society organisations. 
Aim and Scope 
The Framework Workshop aimed to develop background guidelines for formulating tools and instruments against dis/misinformation. To realise this, the workshop brought together field experts, researchers, practitioners, media and communication experts and journalists. The initial Framework Workshop event included 2 workshops, which achieved interesting and fruitful results to be taken further in the project. 
The first workshop focused on framing the fundamental skills and strategies for the instruments (digital literacy, media literacy, critical thinking). It focused especially on what are the needed skills and why they are needed. To be able to build the best possible immunity for the European citizens against mis- and disinformation, the presented angles and topics were selected from the DigiComp2.2 The Digital Competence Framework for Citizens document of the European Commission. The skills for the following three (3) competencies were discussed by the participants in three stations in a world cafe workshop format. 
Access to information, media content and media and information providers

: Following reliable public news agencies and reliable social media platforms, knowing how to google, cross-checking and lateral reading were identified as necessary skills for finding reliable information. New skills essential to be able to identify journalists, distinguishing facts from opinions and professional journalists from others, and knowing how journalism works. 

Evaluation of media and information content and media and information content providers:

Critical evaluation of media content, evaluation of the context of the pictures, distinguishing AI-generated pictures, creating habits for checking original sources, understanding the economic, social and political power and control of media companies are among the identified skills for evaluation. 

Algorithm awareness and the challenges of artificial intelligence:

Algorithm awareness and awareness of AI capabilities, especially as they are among the current required skills since breakthroughs like ChatGPT which are making the current and future situation more complex. Managing digital identity and protecting one's privacy is another key skill due to increased use of mass personal data by many platforms easing mis/disinformation spreading.
The second workshop focused on finding the main dis- and misinformation narratives and the platforms in which they are found to be spread usually. The defining included also conversations about the possible actors in the current context but also assessing possible future perspectives. From the conversations it was found three (3) main themes to select as guidelines for the project's future work: 
Elections

: The approaching European elections can be seen as an overarching theme for the infodemic with an acknowledged potential of covering a lot of issues including migration, security, climate change, energy. Furthermore, foreign interfering actors can be major dis/misinformation spreaders as a part of their hybrid/cyber warfare capacities exposing threat to the EU democracies and its citizens. 

COVID-19 and Health

: It has been highlighted that COVID-19 is a less covered topic nowadays, while medicine safety, medicine shortages can be general upcoming issues in the future in the health domain. 

Migration

: Migration is a major dis/misinformation theme in terms of the increasing number of refugees from conflict zones and their impact on both the society and economy. The conflicts on the peripheries and the climate change are also intertwined with this theme as being strong migration drivers and are also subject to infodemic.  

As an addition,

climate change

is defined as a major infodemic theme, which is on the rise and will highly likely stay in the future affecting our citizens' democratic choices. 
Schedule
28 February 2023
Residence Palace, Wetstraat 155,
1040 Brussels (Schuman)
Opening and Keynote speech
European Commission
Immune 2 Infodemic project introduction
Beyond the Horizon ISSG
Presentation of Immune 2 Infodemic Instruments
FaktaBaari
Dare to be Grey
Laurea University of Applied Sciences
Breakout Workshop Sessions
Instruments (Digital/media literacy, critical thinking)

What are the skills and strategies we can use to immunise ourselves against mis- and disinformation?

Themes (Elections, COVID-19, migration)

What are the main dis/misinformation narratives and platforms? Who are the main actors? Current and future perspectives.
Wrap up of group discussions