IMMUNISE AGAINST DIS-/MISINFORMATION WORKSHOP SERIES
On selected themes: Migration – Health – Elections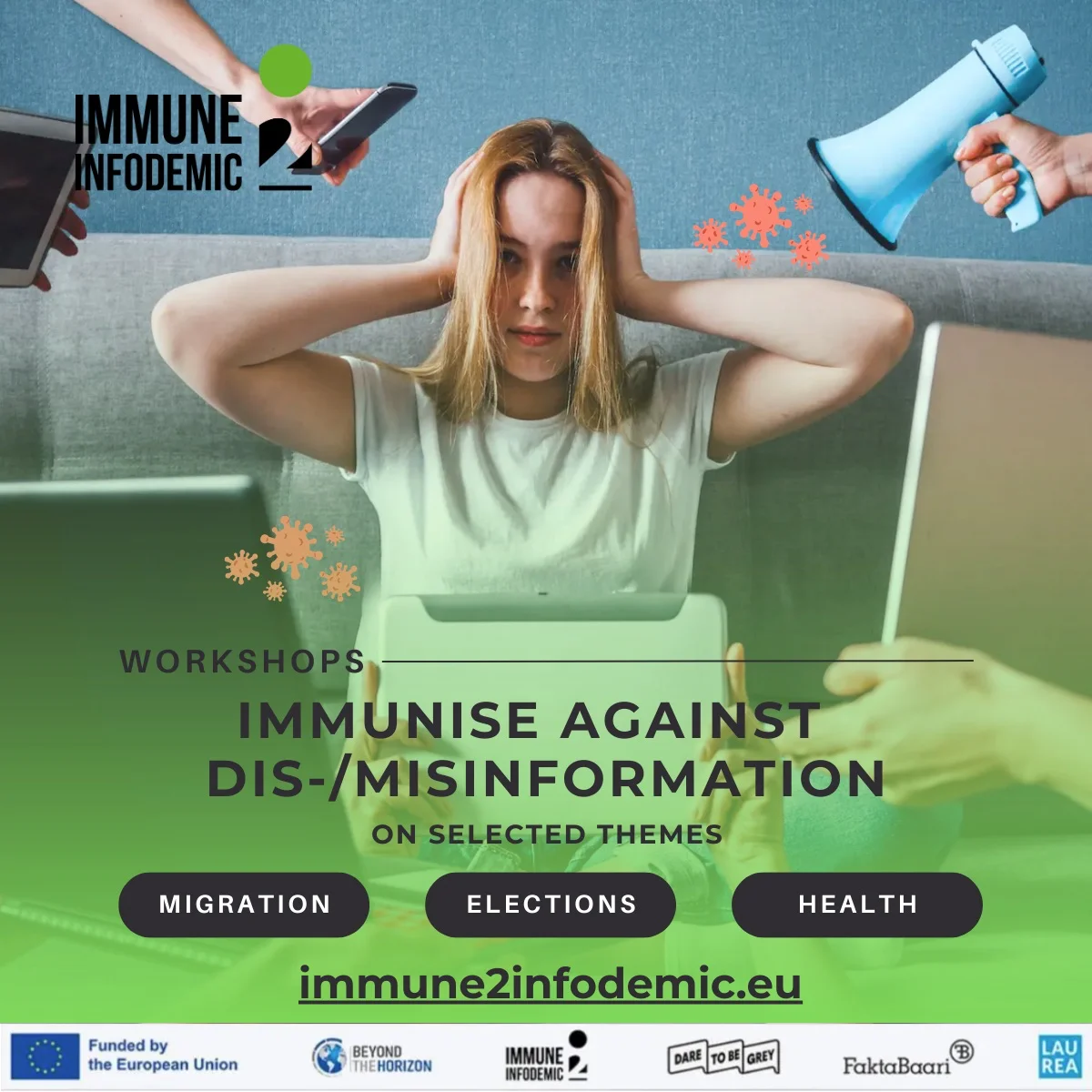 We are all exposed to infodemics spreading around – such as the viruses of pandemic – which can severely impact our decisions. These may include disinformation, misinformation, fake news, and other types of interference on different issues related to public life, your own health, political or economic preferences.
We all need to defend ourselves and build cognitive immunity, such as by getting  vaccines and regular boosters against the spread of the pandemic.
This workshop series aims to help participants get immunity against dis- and misinformation on selected themes by equipping them with easy-to-use tools.
We equip you with different tools to defend yourself using 3 vaccines:

digital information literacy (DIL)
media & information literacy (MIL)
critical thinking (CT)

We empower you with extra 3 booster shots by applying these tools on selected hot dis/misinformation themes:

elections
health
migration
Each workshop focuses on 1-2 selected vaccine(s) and 1 booster. Our workshops are designed for vulnerable people including  youth, students, residents of Belgium and also elderly who are affected on a daily basis by circulating mis/disinformation via media, internet and also word of mouth.
Interested organisations, NGOs, universities are invited to contact us to coordinate a  FREE workshop for a group of audience (15-30 participants per workshop).  Given our limited capacity, reservations will be confirmed on a first-come, first-served basis. Your prompt response is appreciated to secure participation.
November 2023 – March 2024 (date to be defined with interested organisations)
Belgium – In person (at interested organisation's place or our place in Zaventem)
28 NOV 2023
KdG University/Antwerp
We focus on critical thinking and migration with Cross Media students.